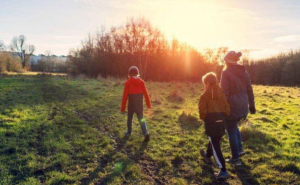 There's something about numbers that just make sense. They tell you when you may be running late, when you need to change the refrigerator filter, and when you may need to cut back on the sweets. The new year rings in the adage 'out with the old and in with the new' for many.
For others, it can be a mentally challenging time as the holiday season continues through the pandemic. Wallets open wider, workouts slow down and calendars quickly fill. Here are 10 wellness tips to bolster your energy and overall wellness as we end the year.
Get outside: Movement boosts physical and mental health. Finding time to move, even for 15 minutes, makes it far more likely you will stick with it. Although the days are shorter this time of year, surrounding yourself with nature can have a strong impact on your state of mind and inspire a feeling of peace and calmness.
Laugh… and laugh often: Laughing is incredibly good for the soul: it strengthens the immune system, boosts mood, diminishes pain and protects against stress. So have a giggle with a friend, watch some comedy or tell a joke!
Don't skimp on sleep: Sound sleep is essential to good health and getting enough is just part of the equation—those Zzz's need to be top-notch to benefit your well-being.
Check benefits: Yep, this might be the last thing on your mind, but any money, health, wellbeing, lifestyle or other benefits your company provides are valuable. You may receive access to support you never knew you had. For example, Unum employees receive work perks like onsite gyms and virtual fitness classes, adoption services reimbursement, and healthy food options.
Eat your greens and drink plenty of water: Dark, leafy greens are rich in vitamins and minerals. One way to get more greens is starting your day with a healthy green smoothie. The human body is up to 60% water – No wonder proper hydration can improve your skin, reduce headaches, help joints, and improve energy.
Money matters: While retail therapy may boost endorphins, it can also strain your bank account. Paying down debt, starting an emergency savings account and saving for big purchases like a new home or car can positively impact overall wellbeing.
Practice gratitude: Whether it's through journaling or meditation, these feelings of appreciation have been shown to boost overall well-being and may even relieve stress.
Volunteer: Giving back doesn't always mean dollar signs. Volunteering for community or employer-hosted events can give a new meaning to 'all hands on deck'. Check if your organization provides paid time off to volunteer or will match financial donations for a good cause.
Limit screen time: Do you check your phone first thing in the morning? Or are you a bedtime scroller? Purchase an alarm clock and charge your phone in another room. Avoid looking at screens at least an hour before bed.
Spend more time with loved ones: In our busy lives, we need to make time for the people who matter to us. Make a point every day to check in with at least one friend or family member just to see how they're doing. Even if you haven't checked in with someone in a while, a simple "I've been thinking about you" text can go a long way.
Info gathered from workwell.unum.com